Star Global Advanced IT Corp. Ltd.
t: 250.381.2800
f: 250.381.2806
toll free: 1.877.381.2800
contact us


Portfolio
"Because We Don't Produce the Same Website Twice"
Software Development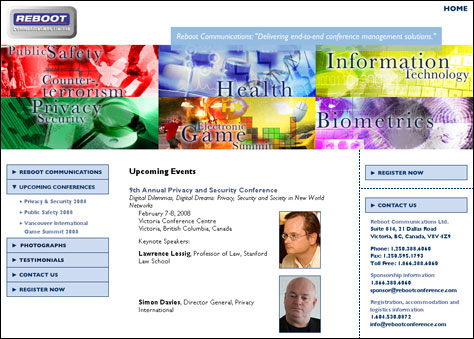 Reboot Communications
Events & Conferences
Victoria, British Columbia
*Web Programming Only
(Design by Kathryn Molitor)
Reboot Communications provides conference management solutions for Public Sector and Privacy Sector, including Public Safety, Privacy & Security, Health, Electronic Gaming and Counterterrorism.
The Reboot web site was redesigned in-house at Reboot, and Star Global created web site template code and advanced context aware navigation. The conference delegate registration system needed to be enhanced to support the many types of conference formats and pricing levels.
The new web site template used an integrated framework across the content pages and registration system software. Each conference has its own banner and navigation specific to the graphic identity for the event. The framework ensures no broken links in the site navigation. The registration system has an easy to follow user interface. It was custom designed to Reboot's business requirements, where each conference can have different events, many pricing levels for public sector, private sector, student or members of organizations. Private label pricing can be made available using a promotional code. Optional events can be created to record attendance to social events and pre-conference workshops. Delegate details are stored along with their registration choices. Delegates can pay in real-time by credit card or choose to pay by cheque, or Journal Voucher for BC Government employees. Conferences can be charged in USD or CAD currency. A printable receipt is displayed to the delegate upon successfully paying for their registration. Reboot is notified each time a registration is processed, to begin the back office procedures for new delegates.
The registration system received praise by customers for its ease of use, in comparison to Reboot's earlier registration system using a single web form. The hosted payment page requires registrants to confirm their credit card details before proceeding, to help reduce fraudulent transaction attempts. As well, after a successful transaction, Reboot had more control over the display of a receipt in the browner window and processing the registration in the backend database systems.