Star Global Advanced IT Corp. Ltd.
t: 250.381.2800
f: 250.381.2806
toll free: 1.877.381.2800
contact us


Portfolio
"Because We Don't Produce the Same Website Twice"
E-commerce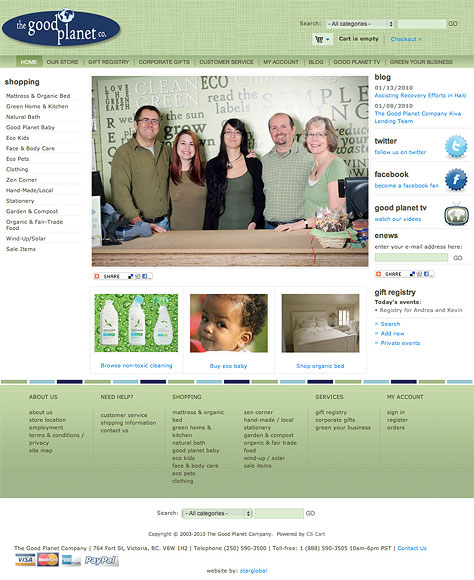 Good Planet
Retail & Consumer Products
Victoria, British Columbia
The Good Planet Company is a bricks and mortar retail store, located in downtown Victoria, BC, featuring an exciting range of earth-friendly organic products.
When The Good Planet Co. approached Star Global they had an outdated shopping cart system, and required an entire revamp
In conjunction with the Good Planet's ideas, Star Global designed the website and created a new look & feel, and established front line messaging to inform visitors what they can do. The website is built using CS-Cart shopping cart software that enabled the following features:
gift registry
one-page checkout
inventory tracking
statistics
return management
promotions and gift certificates
taxes, payment gateways and flat rate shipping
files can be imported or exported in CSV format
has an affordable license fee
design elements can be customized
A Wordpress blog was installed on the server, then customized for a consistent look and feel, and linked via the main navigation of the website. The Good Planet can use their blog to build a resource centre, catalogue & manage stories, and post sales notifications & videos.
Star Global helped The Good Planet Company activate their social media accounts, and maintain consistency with their branding (e.g. Facebook Vanity URL). Every page of the blog is also connected to social media sites like Facebook, Twitter and Youtube.
Star Global also implemented an email newsletter system by Constant Contact to collect contacts, send inexpensive and short communications, enjoy separate mailing lists, manage contacts emails, and have more frequent contact with customers. The email archive feature also allows The Good Planet Company to push the newsletter to social media sites, and encourage fans to return to their online web store.
Training was also provided along with a mini-manual to assist The Good Planet to perform required tasks and take control of the website at launch.