Star Global Advanced IT Corp. Ltd.
t: 250.381.2800
f: 250.381.2806
toll free: 1.877.381.2800
contact us


Portfolio
"Because We Don't Produce the Same Website Twice"
E-commerce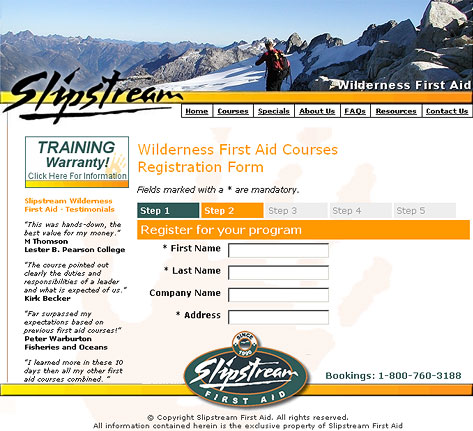 Slipstream First Aid
Medical
Victoria, British Columbia
Slipstream Wilderness First Aid offers innovative, education-based wilderness first aid training for extreme environments found in both the public and private sector industries. They have been instructing first aid courses for over ten years, and are a leader in their industry.
Slipstream had difficultly finding a third-party software or service to meet their needs. They approached Star Global knowing they required a custom designed course registration system. The goals of the project were to make it easier for participants to register online, and to reduce the time required for the staff to process each registration.
The old method for registering participants was through a long online form that was complex and confusing. The form did not accept payments, nor calculate a registrant's total cost, or create unique order numbers. When a registration was received by e-mail, it required labour intensive data entry into the CRM software used in the back office to track course registrations.
The first improvement was to convert the single online form into a five step process. This "wizard" format creates a better user experience. Payment can be made by credit card in real-time, or the registrant can specify they will pay by cheque or money order. Upon completion, the registrant is e-mailed specific documents related to their course, including a location map of the campus, and a getting started guide.
Using the web-based administration interface, Slipstream staff can add, edit and delete details via the web based interface including products, courses, prices, upload files such as location maps by PDF. Registrant data can be viewed in the web browser, but can also be exported data for import into their CRM software. Star Global created a method to convert the software data to match with Maximizer user-defined fields that were already in use at Slipstream.
This solution combined two disparate systems into one, thus eliminating labour intensive data entry, reduced the possibility of data entry errors, increased their add-on sales, and allowed for receiving online payment transactions. The prescribed method also maintained existing business processed which limited the expense of re-training of the staff when the new system registration was brought online.