Star Global Advanced IT Corp. Ltd.
t: 250.381.2800
f: 250.381.2806
toll free: 1.877.381.2800
contact us


Portfolio
"Because We Don't Produce the Same Website Twice"
Blogs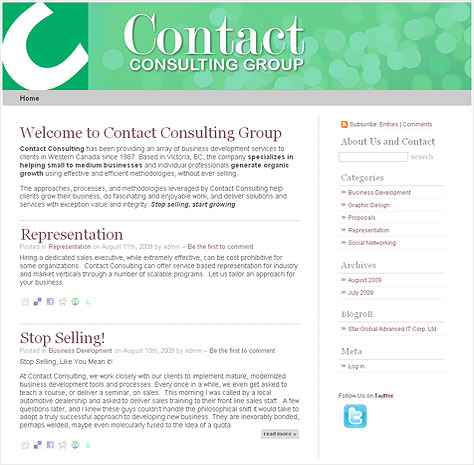 Contact Consulting
Professional Services
Victoria, British Columbia
Contact Consulting has been providing an array of business development services to clients in Western Canada since 1987. Based in Victoria, BC, the company specializes in helping small to medium businesses and individual professionals generate organic growth using effective and efficient methodologies, without ever selling.
Star Global put together a Wordpress.org blog for Contact Consulting so they could take advantage of social media networking and turn readers into clients.