Star Global Advanced IT Corp. Ltd.
t: 250.381.2800
f: 250.381.2806
toll free: 1.877.381.2800
contact us


Portfolio
"Because We Don't Produce the Same Website Twice"
Web Design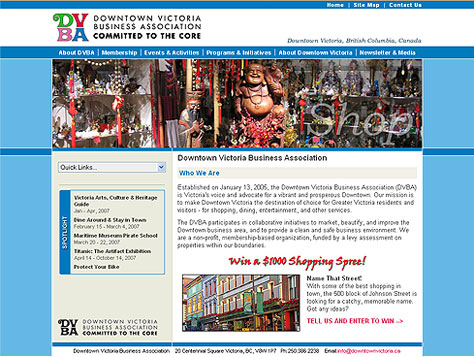 Downtown Victoria Business Association
Government & Associations
Victoria, British Columbia
The Downtown Victoria Business Association (DVBA) is Victoria's voice and advocate for a vibrant and prosperous Downtown. Their mission is to make Downtown Victoria the destination of choice for Greater Victoria residents and visitors - for shopping, dining, entertainment, and other services.
The DVBA participates in collaborative initiatives to market, beautify, and improve the Downtown business area, and to provide a clean and safe business environment. They are a non-profit, membership-based organization, funded by a levy assessment on properties within our boundaries.
The DVBA needed a new web site to coincide with television, radio and other marketing strategies, and the web site has received updates to include a fully searchable downtown business directory. The web site also keeps an active list of upcoming events around town.