Star Global Advanced IT Corp. Ltd.
t: 250.381.2800
f: 250.381.2806
toll free: 1.877.381.2800
contact us


Portfolio
"Because We Don't Produce the Same Website Twice"
Web Design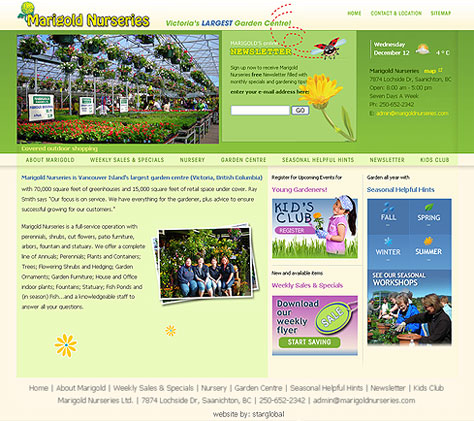 Marigold Nurseries
Retail & Consumer Products
Saanichton, British Columbia
Marigold Nurseries is Vancouver Island's largest garden centre (Victoria, British Columbia) with 70,000 square feet of greenhouses and 15,000 square feet of retail space under cover. They needed a web site to show weekly specials, seasonal workshops, and provide printable forms for the Kids Club. Star Global also installed a newsletter to help Marigold keep in touch with their client base about tips for the garden, and letting them know what's in stock for the season.