Star Global Advanced IT Corp. Ltd.
t: 250.381.2800
f: 250.381.2806
toll free: 1.877.381.2800
contact us


Portfolio
"Because We Don't Produce the Same Website Twice"
Blogs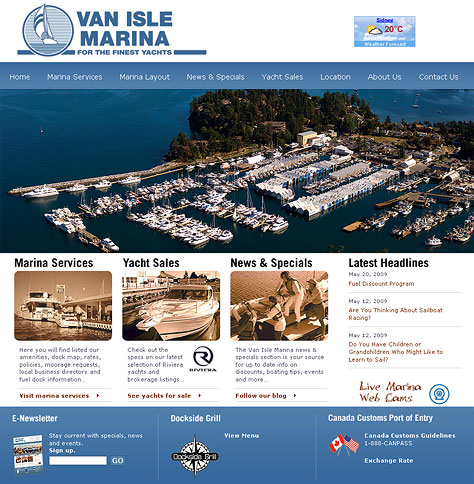 Van Isle Marina
Marina
Sidney, British Columbia
Van Isle Marina is one of the largest full-service marinas in British Columbia. They are passionate about providing excellence and value in every aspect of your marina experience.
Star Global designed a brand new look and feel for Van Isle Marina and inserted the design into Wordpress.org (blog) software to allow them to take advantage of social media networking sites like Facebook and Twitter.
The content is editable by in-house staff. Articles, specials and new posts can be easily catalogued and archived. Additionally, any new articles will be catalogued by Google faster than traditional search engine optimization, and the blog software allows for real simple syndication (RSS feeds).
The project also connected an online e-newsletter program, and provided the insertion of photogalleries, web forms, live web cams, and a virtual tour.