Star Global Advanced IT Corp. Ltd.
t: 250.381.2800
f: 250.381.2806
toll free: 1.877.381.2800
contact us


Portfolio
"Because We Don't Produce the Same Website Twice"
Web Design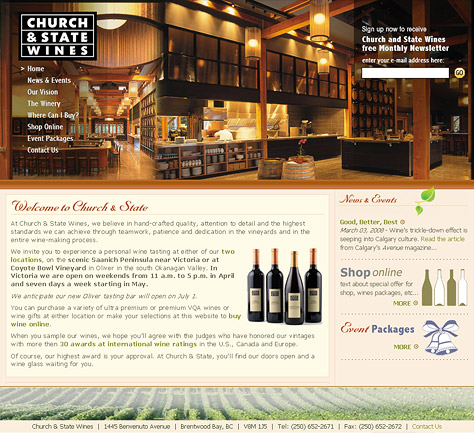 Church & State Wines
Retail & Consumer Products
Brentwood Bay, British Columbia
At Church & State Wines, they believe in hand-crafted quality, attention to detail and the highest standards we can achieve at their owner-operated winery on Canada's western edge. They have locations on the scenic Saanich Peninsula near Victoria or at Coyote Bowl in Oliver in the south Okanagan Valley.
Church & State Wines needed a fresh new look, and wanted to increase online sales. The result was a new look using their existing branding, and upgrading the e-commerce store on the web site. Star Global also implemented an online newsletter, to help them collect emails for their database, and connect with their clients to keep them informed of all the happenings at Church & State Wines.